Services for Australians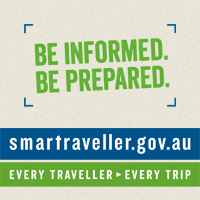 Smartraveller is on Facebook and the Smartraveller iPhone app is now available in the App Store. Join us on Facebook for travel advice updates and tips on travelling safely while still having fun. The app features location aware travel advice updates and access to Smartraveller advice without the need for an internet connection, along with easy repeat travel registration using saved information.
From 1 March 2017;

The Australian Embassy in Ankara will no longer accept payments made by cash for passport applications and notarial services.
We will only be accepting payments made by debit or credit card.

From 1 January 2017;
Passport fees will increase in line with the Consumer Price Index.
The following fees will apply:

10-year passport for persons aged 16 and over $277 (up from $254)
5-year passport for children under 16 years and persons aged 75 and over $139 (up from $127)
emergency passport overseas $175 (up from $153)
overseas surcharge for children under 18 years $52 (up from $51)
overseas surcharge for adult applicants $103 (up from 102)
Notarial service fees to increase from 1 January 2017
Notarial service fees will increase from 1 January 2017, following a recommendation from the Department of Foreign Affairs and Trade's Functional and Efficiency Review.
Notarial service fees have not increased in 16 years.
The new fee schedule takes into account the annual rate of inflation in Australia since fees were last increased, the growing cost of delivering notarial services and rising demand. The new fee schedule aligns with notarial service fees charged by commercial providers.
From 2018 onwards, notarial service fees will increase annually in line with the Consumer Price Index published by the Australian Bureau of Statistics.
For some services there are free alternatives available to clients, such as witnessing of documents by medical practitioners or police officers.
CONSULAR and PASSPORT services contact details
Office hours in Turkey are from 0830 to 1645 from Monday to Friday
Consular and Passports clients are advised to book an appointment before coming to the Embassy. Appointments can be made by calling the embassy switchboard on +90 312 459 9500. Due to current security arrangements, clients may find it difficult to enter the Embassy without an appointment.
For 24 hour Consular and Passport assistance call +61 2 6261 3305
Our Embassy and Consulates can provide lists of Hospitals or Lawyers to assist you, although we cannot make any recommendations.
For assistance in the İSTANBUL AREA contact the Australian Consulate, İstanbul
Telephone +90 212 393 8542
See address

For assistance in the GALLIPOLI AND ÇANAKKALE AREAS contact the Australian Consulate, Çanakkale
Telephone +90 286 218 1721
See address

Passports services are not available in Çanakkale.
For assistance in ALL OTHER AREAS contact the Australian Embassy, Ankara
Telephone +90 312 459 95 00
See address
CONSULAR PRIVACY COLLECTION STATEMENT
Personal information provided to the Department of Foreign Affairs and Trade (DFAT) is protected by law, including the Privacy Act 1988. We may collect, use and disclose your personal information, including to overseas recipients where we reasonably believe it is necessary, to provide you with consular assistance. Important information about the privacy of your personal information is contained in our Consular Privacy Collection Statement, which you should read and understand. Copies of the Statement are available at http://www.dfat.gov.au/dept/consular/privacy.html or by requesting a copy from the Department.
EMERGENCY AND CONSULAR ASSISTANCE
We provide CONSULAR ASSISTANCE to Australian citizens and permanent residents travelling or living abroad. Our capacity to assist you is influenced by local laws and conditions, international rules governing consular work, and by the cooperation offered by persons and organisations outside the Australian Government.
Click on the link to read our Consular Services Charter or visit the travel tips section.
Whether you are travelling overseas to visit family, as a tourist, for business or to live, we encourage you to register your plans with us before you leave Australia. The registration information you provide will help us to contact or find you in an emergency - whether it is a natural disaster, civil disturbance or family emergency. It may also be used to pass other information to you such as important travel advice updates, notice of elections and information on other matters relevant to travellers and expatriates.
Travel insurance is as essential as your passport, regardless of your travel destination. If you can't afford travel insurance, you can't afford to travel! If you incur medical expenses while overseas and you don't have travel insurance, you are personally liable for covering these costs. The Government cannot pay for medical expenses overseas. Nor will your domestic private health insurance.

AUSTRALIAN PASSPORTS INFORMATION
Following recent changes to passport legislation, several important changes to Australian passport arrangements will be introduced on 1 January 2016.
• Lost and stolen passport fees will be abolished.
• For applications for an emergency passport lodged on or after 1 January 2016, a new application fee will apply on lodgement. The priority processing fee will not apply in addition to the application fee.
• Passport fees will increase in line with the movement of the Australian Consumer Price Index.
• Child applicants aged 16 or 17 will be issued 10-year passports. 16 and 17 year old applicants must accompany a person with parental responsibility to lodge their passport application
As of 1 July 2015;
• All Australian passport applications, including renewal applications, will have to be lodged personally. You can lodge your application either in Ankara or in İstanbul. We are not able to accept applications by mail or courier.
• Passport applications lodged overseas will incur an additional fee (overseas surcharge). The additional fee will be A$100 for all adult applications, and A$50 for all child applications.
Lost and Stolen
If you are outside Australia and your passport is lost or stolen you must immediately either report your passport lost or stolen online or report the loss to the nearest Australian diplomatic or consular mission.
www.passports.gov.au
This should be done as soon as practicable. You will be required to confirm your identity, and then asked about the circumstances of the loss. If you wish to replace your passport at this time, you can also complete the appropriate passport application form online.
If you don't have internet access you can call +61 2 6261 3305 for 24 hour service.

Renewals or New Applications
If you need to renew an existing passport or apply for your first Australian passport please contact the Australian Embassy, Ankara or the Australian Consulate, Istanbul for an appointment.
Click here for information on the application process for Australian passports or to complete your application online.
Passport photos
You must provide two recent identical colour photographs of yourself with your completed passport application. One of these photographs must be endorsed by your guarantor with the words "this is a true photo of (insert name)" unless you are submitting an application for a passport renewal using form PC7.
The general photograph guidelines will help you provide suitable photographs, so that your application is not delayed by having to submit new photographs in the required format.

Travel information for Australians in Turkey, Azerbaijan or Georgia
Click on the country name for the latest travel information on Turkey, Azerbaijan or Georgia, or click here to take you to the main travel advice page for all countries.
http://www.smartraveller.gov.au/zw-cgi/view/Advice/Azerbaijan
http://www.smartraveller.gov.au/zw-cgi/view/Advice/Georgia
http://www.smartraveller.gov.au/zw-cgi/view/Advice/Turkey
Help Cards
Visa information
Visa and other entry and exit conditions (such as currency, customs and quarantine regulations) are the prerogative of the Turkish Government. These conditions change regularly. Contact the nearest Embassy or Consulate of Turkey for the most up-to-date information.
Turkish Authorities have advised through their e-visa website that from 10 April 2014 visas will not be issued upon arrival. Australians travelling to Turkey as a tourist or for business should apply for a visa online at www.evisa.gov.tr All other visa types should be requested through your nearest Turkish Embassy or Consulate. There is no change to the requirement for all Australian passport holders to have a valid visa. Any questions relating to Turkish visas should be directed to your nearest Turkish Embassy or Consulate.
From 1 February 2012 Turkish authorities implemented regulations allowing a maximum stay of 90 days within a 180 period for tourists on ordinary visas. If you are planning to stay for more than 90 days within a 180 day period, you must arrange a longer-stay visa through your nearest Turkish embassy or consulate before you travel or get a Turkish residence permit. To arrange a residence permit you should contact the General Directorate of Migration Management (İçişleri Bakanlığı Göç İdaresi Genel Müdürlüğü) in Turkey.
Make sure your passport has at least six months' validity from your planned date of return to Australia. The Turkish Government has advised that from 1 January 2015, foreigners entering Turkey must carry a passport with at least 60 days validity beyond the expiry date of their visa or residence permit. You should carry copies of a recent passport photo with you in case you need a replacement passport while overseas.
Australians who enter or depart Turkey by land or sea borders, including those who make short trips to the Greek islands and then return to Turkey, should ensure that they are correctly processed by Turkish immigration and that their passports are stamped for all exits and arrivals. Failure to do so may result in difficulties when departing Turkey, including the prospect of fines and/or detention.
Diplomatic and official passport holders must obtain a visa from a Turkish diplomatic or consular office abroad before arriving in Turkey. Failure to do so is likely to result in refusal of entry.
Make sure your passport has at least six months' validity from your planned date of return to Australia. You should carry copies of a recent passport photo with you in case you need a replacement passport while overseas.
Link to information on travelling to an earthquake-prone zone
When travelling to an earthquake-prone area, like Turkey, we recommend you familiarise yourself with the following information about what to do before, during and after an earthquake.
We encourage you to ensure you have comprehensive travel insurance and to register your travel plans before you leave Australia. The information you provide will help us to contact or find you in the event of an emergency.
For Australian residents living in earthquake-prone areas overseas, additional information is included about how you can prepare thoroughly in order to protect yourself and your family.
The Istanbul Governor's crisis and disaster management centre also provide information:
Living in Turkey and Overseas
The websites for the Turkish Embassies and Consulates in Australia and the UK provide links to information on residing in Turkey.
Returning to Australia
Information on Australian Government services
Importing Cats, Dogs and other Animals into Australia
All cats and dogs being imported to Australia, whether it is for the first time, or returning, must meet the standard Department of Agriculture Fisheries and Forestry import conditions. Different DAFF import conditions apply for the importation of disability assistance dogs.